Bespoke sign boards: Solutions that make life a lot easier
Signage is omnipresent. And how!! We are witnessing a scenario where sign boards are more than just an added attraction. A well-crafted signboard conveys vital information, apart from being a symbol of the company's aesthetic sense. It is hard to imagine life without signage. They can be outlandish, subtle, or totally inconspicuous in design. But functionally, they all serve the purpose of conveying a message or vital details.
Every sign board manufacturer knows that sign boards add great value to various industries. That is precisely why they are constantly in the pursuit of innovative signage that will distribute information effectively.
Industries where signage makes a significant impact in their operations.
Signage in airports
Airport signage plays two crucial roles:
It informs passengers about the flight status in real-time.
It makes navigation inside and outside the airport much easier.
Even the smallest airport needs to have an ample number of sign boards that carry crystal clear information. Imagine trying to find your way inside an international airport that has no signage. You would miss your flight or probably get lost inside the massive building that can stretch for miles.
Airport signage design must be in tandem with the airport layout. But more importantly, they must be:
In a proper working condition(if it is a digital sign board)
Clear and precise
Easy to find
Easy to understand
Placed in the right spots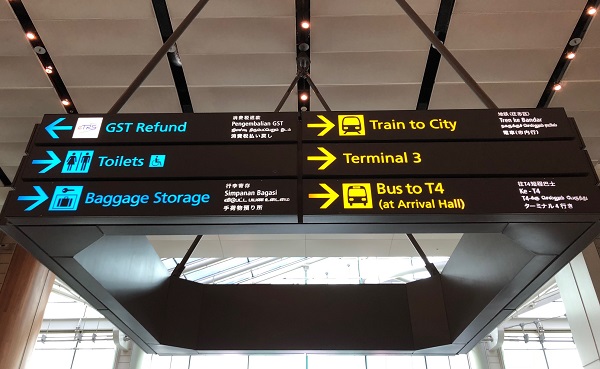 Airports are one of the biggest industries that require all kinds of sign boards such as display boards, informational boards, name boards, interactive signage and digital boards that have real-time information.
Signage in the workplace
Office signage focuses more on the interior set up of the office rather than the exterior. Corporate offices are particular about their name boards but apart from that, everything else is designed to be used inside the office space. Interior office signage such as:
Embedded LED signs,
Metal or 3D name plaques
Window and wall graphics
ADA signs
Digital displays
The main purpose of office signs ease the functioning of the office procedures and for wayfinding inside big corporate offices.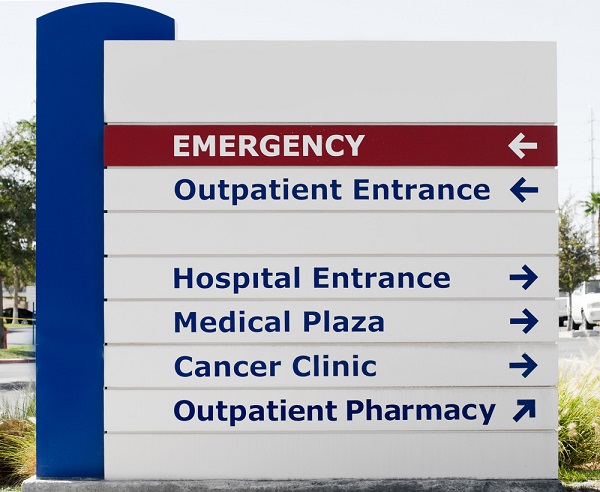 Signage in medical facilities
Hospitals are very similar to airports in terms of sign board usage. Signage implementation has to be in synchronisation with the layout of the hospital. Designed properly, hospital signage can effectively do away with unnecessary chaos and cuts down the time wasted in finding relevant areas. The entire layout is enhanced by assistive signage such as:
Directional and wayfinding
Digital displays
ADA signs
Inside the hospital premises, signage can be found right from the entrance. They give clear navigational directions regarding the parking spaces, entrances to the ER, reception and other multiple entrances that is a quintessential feature of big medical facilities.
Signage in the hospitality industry
This is another industry where signage plays dual roles. Some of the signage is purely used as eye candy- particularly the ones that bear the name of the hotel, restaurant or service business. A fancy-looking place requires an equally fancy-looking sign board that adorns the facade. Other signage is used as effective marketing accessories. Restaurants use wall displays and digital boards that showcase eye-catching photographs of their prominent dishes. Such signage can turn heads and pique the interest of passersby to pay a visit and become regulars.
Signage in shopping spaces

When we say shopping spaces, we mean everything from large retail stores to flagship stores, high-end boutiques, supermarkets, marts, pop-up shops, grocery shops to sophisticated showrooms. These are places where signage is more like an attractive accessory. Manufacturers design sign boards that have an alluring appeal. Shop sign boards also do their bit in spreading brand awareness or promoting seasonal offers, events and new products.
Sign boards in educational institutions
Check Out – The Ideas for college campus digital signage displays.Educational institutions are mushrooming everywhere, and the well-established ones are growing in size every year. Large educational institutions like colleges and universities require several varieties of sign boards, with each one playing a definitive role in each area of the institution. Digital posters and multipurpose HD video walls are required in seminar halls, multimedia labs and classrooms. Campuses are spread over large areas and visitors, students and staff benefit from wayfinding signage both inside and outside the buildings. Even the college cafeteria requires its own sign board to display the daily menu!
Whatever the industry, always go for reputed designers who will fulfil your specifications without compromising on the quality of your sign board in Chennai.